Mailing Address:
PO Box 91478
Raleigh, NC 27675
www.LanArc.com
Phone Fax
919-598-3605
919-598-9776
Physical Address:
3507 Carpenter Pond Rd.
Durham, NC 27703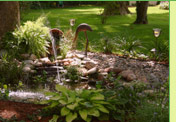 Activity Calendar
Helpful, year-round landscaping tips
For those gardening enthusiasts, we have provided a monthly calendar to help you keep up you landscape. Although there may be too many things to mention on this site, it can be a helpful tool for those that may need a reminder in certain months. If you have any specific questions regarding your landscape, feel free to contact us, and we will be glad to assist you in any way possible.
May
Please click on the links below to access planting and maintenance information for May.
•

General Landscape

Now is the time to prune those spring flowering plants as well as removing any spring growth that needs it.

•

General Landscape

Insects are becoming active again so check your plants for insect damage. Lacebugs are common for producing bleached out speckled leaves on azaleas, pyracantha and cottoneaster.

•

General Landscape

If you have been thinking about that new patio or deck or taming that slope in your yard, it is not too early to start the planning. Summer is a great time to do the work so that it can be ready for fall planting.