Mailing Address:
PO Box 91478
Raleigh, NC 27675
www.LanArc.com
Phone Fax
919-598-3605
919-598-9776
Physical Address:
3507 Carpenter Pond Rd.
Durham, NC 27703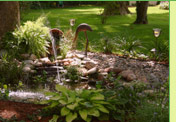 Activity Calendar
Helpful, year-round landscaping tips
For those gardening enthusiasts, we have provided a monthly calendar to help you keep up you landscape. Although there may be too many things to mention on this site, it can be a helpful tool for those that may need a reminder in certain months. If you have any specific questions regarding your landscape, feel free to contact us, and we will be glad to assist you in any way possible.
October
Please click on the links below to access planting and maintenance information for October.
•

Lawn Care

As the leaves begin to fall, be sure to keep them off your lawn, especially if you've reseeded.

•

General Landscape

October is the prime time to install spring flowering bulbs such as daffodil and crocus. It is also the peak time for tree and shrub plpanting, so give us a call to find out how we can help.